Current Projects
Apex Australia is more than one project - it is hundreds of local, state and national efforts confronting community concerns, initiating social action and aleviating distress. Each Club has its own priorities but each year state and national leaders focus on some big picture issues.
Apex Australia Teenage Fashion and Arts - Nationwide Competition
AATFA is a unique opportunity for students interested in the fashion or design industries to demonstrate their skill and flair through a friendly competition.
The Awards are an extraordinary co-curricular activity, which offers students the opportunity and encouragement to explore their creativity in the fields of fashion, design and textiles and is open to all schools, both private and government throughout Australia. In previous years individual state competitions have attracted more than 300 entrants.
Students who become involved in AATFA generally benefit through an increase in self confidence and self-esteem. Many go on to further study at Tertiary Institutes with careers in Fashion Design, textiles, costume design, photography and production having been achieved by many talented students.
Others go on to create their own label, or are employed and mentored by experienced and well-known designers.
AATFA delivers wonderful opportunities for students and volunteers, many of whom are retired and non-Apex members.
Opportunities exist to become involved in this amazing student festival of fashion!
AATFA is organised by the Apex Club of Perth, with regional finals in each state. Apex Perth is always looking for passionate people who have skills in Event Management, Logisitcs, Media & Marketing.
Visit www.aatfa.org.au/ or contact us admin@aatfa.org.au
Apex Club of Karratha Garden Party
The Apex club of Karratha has been running it's now famous (or is that infamous) Garden Party for the last 9 years, enabling the club to pump over $200k back into the community, local, interstate and international.
The Garden Party is a costume party, the punters spare no expense and go to great lengths to impress their peers and the results are stunning. We sell 500 tickets at $150 each. In the early years it was like pulling teeth as we struggled to sell 200, this year we sold out in 15 minutes, the first in the queue was there 5 hours early!
Next comes the Party – in 9 years it has never rained on our parade, and the punters begin arriving at the designated pickup point. We then put these 500 onto busses and ship them out to a mystery location (This year was at the Wickham Yacht Club – about a 40 minute ride) where everything is laid on, all Drinks, awesome food prepared by former Karratha Apexian and now senior active Rob "Iron Chef" Briggs and entertained by local rockers "Misguided" who's little drummer boy is our very own member Raymond. We all love Raymond, everyone does…
After 4 to 5 hours of frivolity we pour everyone back on the buses and take them home, awesome day had by all – even us! Check out the photos below. Any Apexian in the area late August or early September you are more than welcome to join us and enjoy the show!

Apex Club of Murwillumbah's Charity Queen
Our Club President Jorja McLeod was recently crowned Tweed Valley Banana Festival Charity Queen winner. Jorja (who is only 19 years old) has raised $15,221 for our chosen charities, Tweed Palliative Care & Wedgetail Retreat.
Jorja has worked relentlessly for many months to achieve this result for very deserving charities. It's been a honour and a pleasure for our club to work with Jorja. You've done an amazing job.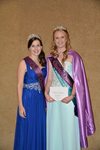 - Tammy Dundon & Jorja McLeod

Apex Postie Bike Ride
The Apex Outback Postie Bike Ride, held every year in early Spring, sees 100 keen riders travel 1,100 km in 4 days on their Postie Bikes through the picturesque Flinders Ranges & Outback South Australia covering some of the toughest & most challenging off road terrain South Australia has to offer.
Riders are required to raise a minimum of $500 for the chosen charity to participate in the ride. Proceeds from the Apex Outback Postie Bike Ride are donated to The Apex Copper Coast Family Retreat established by the Apex Clubs of South Australia in support of Cancer Council of SA.
The physical, emotional, and financial burden of cancer can be over whelming, and extends throughout the whole family, whether it is a child or a parent with the diagnosis. The 3 bedroom retreats located at North Beach Wallaroo provide free accommodation for a week to families who are experiencing cancer. Our aim is to ease the burden and support families during this treacherous time by providing a relaxing break at Wallaroo, a stone throw from the beach, enabling families during or after treatment to relax and enjoy their time together, creating new precious positive experiences & memories.
Help us to support these families.
Blacktown Apex is Cool!
"We have been so lucky to have worked with Blacktown Apex over the last few months. My daughter Pippa who is 4 years old and suffers from cerebral palsy was our reason for coming into contact with Blacktown Apex.
Due to difficulties walking long distances Pippa was in need of a manual wheelchair. The people at Blacktown Apex have been more than generous and supported my daughter and our whole family through this difficult process.
They were very generous and assisted us with a donation towards her Manual wheelchair, and other donations towards further medical assistance for our little fighter.
The lovely people of Blacktown Apex who express such a caring and helpful natures have been of overwhelming support to my family. We are so very grateful for all their hard work and support and so thankful that they were able to assist us to gain this important piece of equipment for Pippa to attend her appointments."
Joanne Gray
"Blacktown Apex is cool. They helped me get cool wheels. Thankyou."
Pippa Gray
SOUTH COAST CRAFT BEER FESTIVAL
It's a local festival event run by Apex Milton Ulladulla in partnership with community, volunteers, council, business chamber.
South Coast Craft Beer Festival is a new festival presented by The Apex Club of Milton Ulladulla. The aim of the festival is to promote good times, good food and great beer, in a relaxed environment to the people of the South Coast of NSW.
Check out https://www.facebook.com/pg/southcoastcraftbeerfest/